The Pacific island paradise of Fiji offers holidaymakers a vast array of activities and experiences, meaning every day of your getaway can be filled with as little or as much as takes your fancy.
If working on your tan by a spectacular resort pool with a cool drink in hand is your thing, Fiji has you covered at many world-class hotels and resorts, set in lush surrounds. There are few destinations in the world better placed than Fiji to deliver a classic island flop and drop (and eat and drink) escape, filled with massages, leisurely meals, and hours in a hammock with a good book.
But Fiji offers so much more for couples and families looking for a fun, varied and memorable holiday.
If you're keen to get the muscles moving there are adrenalin-pumping jet boat rides, quad bike tours, snorkelling adventures and beautifully maintained golf courses. Perhaps you'd like to meet locals and learn about their way of life, shop at local markets or visit a wildlife sanctuary?
Or swim with manta rays, relax in therapeutic mud pools and dine at superb restaurants?
Fiji is perfectly positioned to deliver a holiday experience like no other, and caters to people travelling on all budgets, whether you're looking for a basic room or five-star luxe treatment with all the trimmings.
Here is our checklist for some of the top things to do in Fiji. You may not squeeze them all in, but we reckon you'll have a great time trying!
1. Kula Wild Adventure Park
The biggest, most diverse family fun park in Fiji is home to a nature walk through acres of natural forest with elevated boardwalks allowing exploration, from the valley floor to the forest canopy; Fiji's only Roller-Coaster Zip Rail and Jungle Waterslide; and spectacular local bird, reptile and marine life. The 28-acre property is set in three valleys, with 12 acres of coastal forest open to visitors. Huge walk-through enclosures help put visitors inside the habitats of the resident parrots, doves, water birds and reptiles. Marine displays of ocean turtles, soft and hard coral and tropical fish provide a glimpse into the sensational marine world that surrounds the more than 300 islands of Fiji.
Location: Coral Coast, Viti Levu. Open seven days a week from 10am. Last entry at 4pm. F$50 (adults) and F$25 (children).
2. Sigatoka Sand Dunes
The Sigatoka Sand Dunes National Park highlights Fiji's natural beauty. The sandy expanse of hills and dips is a spectacular landscape to view, and an awesome place to stretch your legs. You can visit the dunes on your own, or with a walking tour, which will generally take around one hour. Just be sure that if it's a hot day you visit before 11am or after 3pm.
Location: Coral Coast, Viti Levu.
3. Sigatoka River Safari
The Sigatoka River is the longest river on the main island of Viti Levu, running from the hills of the Navosa Province down to the sand dunes in Kulukulu, on the famous Coral Coast. The river provides locals with fresh water mussels (kai), fish, prawns and eels, and water for agriculture and drinking.
You'll be collected from your resort in a mini-coach and transferred to Sigatoka Town. From there you'll enjoy a 17km scenic cruise into the Sigatoka valley, discovering the fertile area known as the "salad bowl" of Fiji.
After arriving at your departure point, surrounded by Fijian natural beauty, you begin your journey up the river, hearing stories about the history of the region. The water is so clear that the fish and rocks are visible.
A warm welcome from villagers awaits when you reach your destination. Sigatoka River Safari visits a different village every day to minimise the impact of tourism.
You will visit the village Chief's bure (house) or community hall and take part in a kava ceremony, before a tour of the village and a traditional Fijian lunch, including wonderful fresh tropical fruit.
Location: Coral Coast, Viti Levu; tours depart from about 8.45am. From F$135 (child) and F$269 (adult). Family packages available.
4. Cruises from Denarau Island
Is there anything more enjoyable than relaxing on the deck of a ship as you sail through tropical waters? Companies offer day trips to one of the nearby islands, each displaying an aspect of Fiji's unspoilt beauty. Or enjoy a sunset dinner cruise with that special someone. Love is in the air, everywhere I look around…
Location: Denarau Island, about 10km from Nadi.
5. Get physical on Denarau Island
Denarau Island is home to a world-class 18-hole championship golf course, with an added tropical touch — its sand bunkers are carved into the shape of sea creatures. There are water hazards on 15 of the 18 holes, so you need to bring your A-game. And if you can't bring your A-game, bring plenty of balls! Tennis players can enjoy a day or night hit on the dozen grass or synthetic courts on Denarau.
Location: Denarau Island, about 10km from Nadi.
6. Visit the Port Denarau Shopping Centre
The largest collection of quality shops and dining in Fiji is located on the water's edge at Port Denarau. It also offers a spa, hair and nail treatments and tour operators selling land, sea and air activities suitable for all age groups.
The port boasts mouth-watering cuisine and relaxed drinks at a range of restaurants and bars, plus there is a money exchange and clothing outlets.
Unwind on the sunny deck or enjoy an enchanted evening with local entertainment and a gorgeous, shimmering backdrop.
Shops and restaurants include Mamas Pizza, King Kebab, Chicken Express, NZ Natural Ice-cream, Hot Bread Kitchen, BiloCCino Coffee Lounge, Nadina Fijian Restaurant, Indigo Asian restaurant, Amalfi Italian restaurant, Bonefish restaurant, the Hard Rock Café and Cardos Seafood and Steakhouse.
Location: Denarau Island, a 10-minute drive from Nadi. Open seven days a week from 9am to 11pm.
7. Visit a local bar with a view and watch the sunset while sipping an icy cocktail
Nothing says beach holiday like cool, colourful cocktails and a liquid gold sunset. Never will the term "no filter" be more relevant, and let's be honest, you can't visit Fiji without at least one Insta to make your friends back home turn green with envy. Fiji is home to numerous bars and restaurants and many have signature cocktails made from the finest liquors and fresh, local ingredients.
Location: Wherever the wind takes you.
8. Treat yourself and indulge in a Fijian Bobo message
The traditional Fijian Bobo massage has been passed down through the generations. It's a firm massage using a rich coconut oil blend to increase circulation, remove toxins and ease muscular aches and pains. Most Bobo massages apply warm poultices of medicinal herbs (such as Makita and Macou) to your main areas of tension. This powerful massage will put you in a trance and you'll leave feeling lighter than ever.
Location: For the best, you'll want a massage from the Shangri-La resort on Yanuca Island, Coral Coast.
9. Check the children into a kids' club and savour some adult time
We know you love your kids, but we also know you love some downtime. Most resorts in Fiji offer a Kids' Club providing endless entertainment for your young ones. They'll be in good hands, and it'll provide you with the perfect opportunity to do a little bit of exploring on your own, or with that special someone. Just because you're travelling with your family doesn't mean romance goes totally out the door.
Location: Most Fijian resorts. Let us know if the Kids' Club option is a priority when you're booking accommodation.
10. Learn to snorkel or dive
Fiji is home to some of the Pacific Ocean's clearest waters and attracts experienced snorkellers and divers from around the world to experience the striking reefs and exotic wildlife. What better place to take a class in snorkelling or diving? Several places in Fiji offer PADI courses in scuba diving (as well as Bubble Maker, the kid-friendly version). The best part is that once you're certified you can take your certificate on any future holiday, as it's internationally recognised. Dive into a course on your Fijian holiday.
Location: Guests at the famous Jean-Michel Cousteau Resort will have the option, otherwise check out Dive Wananavu Fiji in Rakiraki.
11. Swim with manta rays
The manta rays glide through the channel in the Yasawa Islands on the change of tide to feed. These strange and majestic creatures are natural performers and are mesmerising to behold. Curious and friendly, the manta rays are nothing to be scared of and swimming with them is a unique and wonderful experience. As one of the most pristine tropical marine environments on Earth, you'll find a host of underwater life, from exotic fish to giant turtles. Lovers of nature or animals should make this priority number one.
Location: There are several islands in the Yasawas that do tours. Available May to October.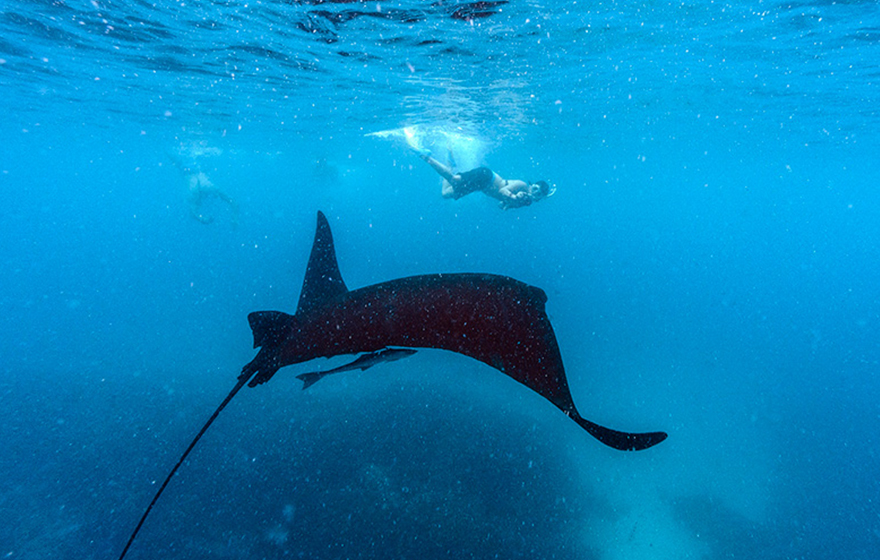 12. Learn about local culture
No-one will blame you if you're on holiday to kick back and enjoy the weather, but for those a little more curious about the culture and tradition of Fiji, there are plenty of opportunities to hang out with the locals. Fijians are famously hospitable, and local schools host visits from travellers. Many villages across Fiji are more than happy to invite you to a kava ceremony. Most Fijians speak English so don't be shy about saying hello. When you do, you'll find out the locals' reputation for friendliness is well-deserved.
Location: The Outrigger Fiji Beach Resort in Viti Levu offers community tourism programs, while most resorts in Fiji host kava ceremonies. If there's a local village you wish to visit, you'll find you'll always be welcomed so long as you're respectful.
Pro tip: It's considered impolite to wear a hat around a village, and you should always leave your shoes outside the door when you enter a home.
13. Shop in the Suva Municipal Market
To experience the sights, sounds and smells of Fiji, a visit to Suva's Municipal Market is a must. Lonely Planet refers to this colourful marketplace as "the beating heart of Suva", and it's not wrong. Taste tropical fruit you've never laid eyes on before, and discover a wide range of flowers, arts and crafts, and freshly harvested vegetables. Wandering around the market is also a great way to meet the locals and chat with the friendly farmers and stallholders.
Location: Usher St at Rodwell Rd, Suva, Viti Levu.
14. Check out Cloud 9
Cloud 9 is Fiji's only two-level floating platform and features a fully stocked bar and wood fire pizza hub surrounded by pristine turquoise waters. Stopping by Cloud 9 is a necessity, simply so at some point in the future you can say "remember the time we ate pizza at a floating bar above a reef nestled amongst those tropical islands?" But bragging rights are the least of what Cloud 9 provides. The venue regularly hosts international DJs and is a hub for music lovers — for a sample check out the Cloud 9 SoundCloud. Offering the most chilled vibes in Fiji, and an experience you'll get nowhere else in the world, Cloud 9 is the perfect round trip.
Location: Daily departures from Port Denarau, Denarau Island, five minutes drive from Nadi. Priced from about F$229, including F$60 voucher for food, drinks or merch.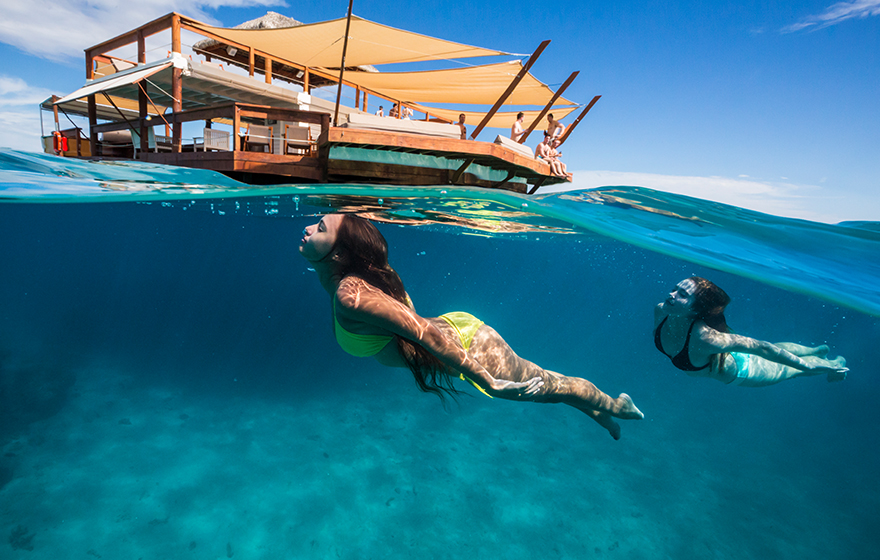 15. Make a day trip to Tivua Island and explore its 500 acres of beautiful reef
Tivua Island is one of the more secluded areas of Fiji, and a cruise out to this hidden gem is a great way to spend a day. The island has cultural activities for the kids to take part in, 500 acres of flawless coral gardens for the divers, and for everyone else, there are pristine beaches and views to die for. You can also take a dinner cruise, where you literally sail into the sunset. Add a barbecue dinner and some Fijian style entertainment and you spell out perfection.
Location: A variety of cruises depart morning, afternoon and early evening from Port Denarau Marina. Prices vary depending on the length of cruise and inclusives.
16. Jump on a quad bike for a Go Dirty Tour
If you're looking for an inland excursion, we recommend the Off-Road Cave Safari. During this half-day adventure, you'll cross the Sigatoka River and explore The Naihehe Caves, Fiji's largest cave system. You'll learn about the caves' fascinating history and enjoy a Fijian barbecue. There's even a wonderful swimming hole so you can take a dip. The very definition of the road less travelled and a true journey of discovery, a quad bike tour is one of the coolest ways to explore Fiji.
Location: Get transferred from a Coral Coast hotel. Quad bike tours start at F$149 (kids) and F$299 (adults).
17. Visit Sabeto Hot Springs
Because of the tropical climate, there is a wet season in Fiji. Swimming in the rain is fun, but floating in a hot pool in the rain is just divine. The hot springs also offer therapeutic mud pools which kick the relaxation factor up to another level. Just remember, even if it's raining in paradise, you're still in paradise.
Location: Nadi, Viti Levu. Monday-Saturday 8am-5pm. F$15 entry.
18. Hike through Fiji's unique topography
From lush tropical rainforests and dramatic mountains to serene beaches and lagoons, Fiji's vistas are breathtaking. If you like to do a bit of exploring on holiday there are a number of hiking trails for you to consider. Whether you're with little ones or looking for a solo challenge, Fiji has something to offer.
Location: We recommend the Colo-i-Suva Forest Park, in Nasinu; the Lavena Coastal Walk, Taveuni Island; or the Vidawa Forest Walk, also on Taveuni Island.
19. Get spiritual
Depending on the island you decide to visit, many different retreats are available. The majority are designed to increase energy levels by improving mental and physical clarity. Such retreats are led by skilled yogis and natural health practitioners, and they're a great way to relax and unwind or do some soul searching. Alternately, visit the Sri Siva Subramaniya Swami, the largest Hindu temple in the Southern Hemisphere, and one of the few Hindu temples outside India to feature ancient Dravidian architecture. It's a vibrant and intricately decorated place of worship and is a great spot for photos, but just make sure you're respectful — you can take pictures on the grounds, but refrain from taking them inside.
Location: The Sri Siva Subramaniya Swami is in Nadi, while yoga options are available across the islands.
20. Find yourself a quiet place with a hammock and get lost in a good book
For all the adventure and activities, the culture and cuisine, and the flora and fauna, sometimes nothing compares to kicking back. It's your holiday, and putting your feet up and getting lost in a world of fact or fiction is just as valid a way to enjoy Fiji as any other. If escaping the grind of daily life is what you're looking for, you'll find it at one of the many beautiful beaches or luxury resorts of this island nation.
Location: Anywhere you drop your towel.
21. Food glorious food
Eat the seafood, the fruit, and virtually anything else that can or will be put on a plate. Fijian cuisine is an experience unto itself so try as much as you can!
Location: When it comes to food, Fiji is your oyster. Speaking of oysters, eat them too. From the markets to the fanciest restaurants on the island, culinary sensations are everywhere.