Whether you're looking for a romantic getaway, a family holiday or a holiday with friends, Fiji has something for everyone. Here are our top tips and answers to the most frequently asked questions about beautiful Fiji.
How to Get There
You can fly directly to Nadi International Airport from Sydney, Brisbane and Melbourne. Flight times depend on your location of departure but are generally between three and five hours. Just enough time for a movie, a snack and a nap!
Other major Australian airports may require a connecting flight to get you to paradise. Ask our specialists for the best way to get there from your closest departure location.
How Long to Stay
The length of your stay is ultimately up to you and your budget. Most commonly, guests choose to stay between five and seven days. This should give you enough time to unwind and explore Fiji before heading back to reality. Book your trip with Hoot and we will take care of planning the accommodation, flights and airport transfers for you.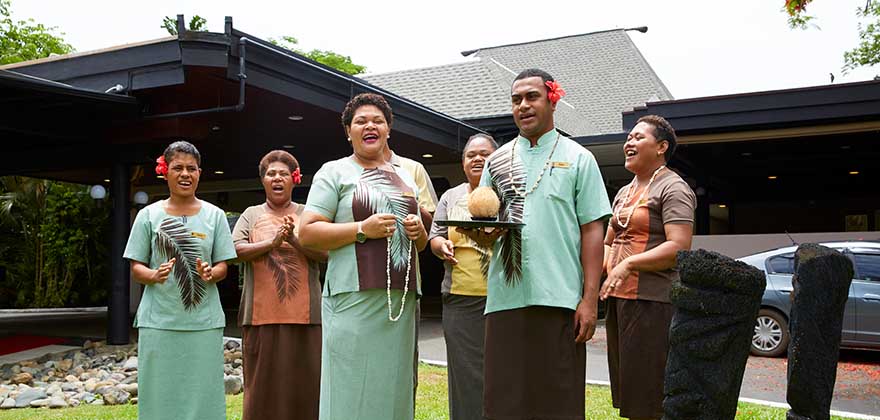 Where to Stay
Coral Coast
Just a one to two hour transfer from Nadi International Airport and set upon 40-acres of tropical heaven is Fiji's beautiful Coral Coast. For accommodation, we recommend staying at Outrigger Fiji, Shangri-La's Fijian Resort & Spa, Warwick Fiji or The Naviti Resort.
How to get there: Return transfers included in packages when you book with Hoot Holidays.
The Islands
If you're looking for a quiet Fijian escape, why not stay on a secluded island? Just a 30-minute boat ride or eight-minute helicopter ride east of Nadi is the small group of islands called Mamanuca. Choose your dream island and check out the divine resorts on offer:
Denarau Island
Denarau Island is accessible by car and is only a 22-minute drive from Nadi International Airport. The island is one of the most accessible locations to stay in Fiji and has more than enough incredible rooms and facilities. We recommend the Radisson Blu Resort Fiji and the Sofitel Fiji Resort & Spa. The choice is yours!
Learn the Fijian Basics
There's nothing the locals love more than visitors doing their research and learning some of the native language. Use these words to impress the locals.
Hello – Ni sa bula (or just bula) ("Ni sahm boola")
Yes – Io ("Ee-o")
No – Seqa ("Senga")
Please – Yalo vinaka ("yalo vee naka")
Goodbye – Ni sa moce ("Ni sa mothey")
Thank you – Vinaka ("Vee naka")
Drink – Gunu ("Goo noo")
Eat – Kana ("Ka na")
When to Go
July and August are peak season but the best time of year, as they are the drier months. Christmas and New Year is also a peak season for Fiji when people from all over the world fly into experience Fiji in its prime.
Off-peak season months in Fiji are February, March, June, October, and November. This is the recommended time for couples, groups or families wanting to enjoy peace and quiet in Fiji. Off-peak is also a great opportunity to get a great deal on travel to Fiji.
Ready to Book?
If you have any questions, we are more than happy to help. Contact one of our holiday specialists today and start planning your trip to beautiful Fiji.