All-inclusive holidays are a great way to explore the world without breaking the bank. Book an all-inclusive trip with Hoot Holidays and the only thing you have to worry about is what to pack. We look after the rest.
Our holiday packages include flights, airport transfers, accommodation, food and drinks plus bonuses including massages and activities. Plus, you get the benefit of dealing with an experienced travel consultant who knows the right questions to ask on your behalf.
Our holiday specialists will help you get interconnecting rooms if you need them. They know – often because they have stayed at the resorts themselves – what the kids' club is like, or what the best treatments are at the hotel spa. And if heaven forbid, something does go wrong on your holiday our specialists are just one phone call away to help sort out any problems.
What are the benefits of booking an all-inclusive holiday with Hoot?
You can skip the check-out because everything is included and you have already paid for everything upfront meaning no nasty surprises.
1. Any flight connections, or airport in-destination pick-ups, are organised by us so the whole journey goes as smoothly as possible.
2. Hoot Holidays can help book any excursions you might want to do, again taking the hassle out of planning your holiday. And because Hoot works with tour operators  on a regular basis we know the best tours and can often get them at the best prices in the market.
3. All-inclusive holidays are family-friendly. Because all the food and drinks are covered, your kids won't be constantly asking you for money to buy drinks.
We understand that it is easy to rack up a big food and drink bill at hotels. You quickly lose track of what you are spending if everyone in your family is simply charging things back to the room. That's why buying an all-inclusive package is a great option.
Hoot Holidays offers a five-night all-inclusive package at the stunning Naviti Resort on Fiji's Coral Coast from $1690 per adult. The package includes return flights, meals, drinks, airport transfers in Fiji, and lots of extra bonuses.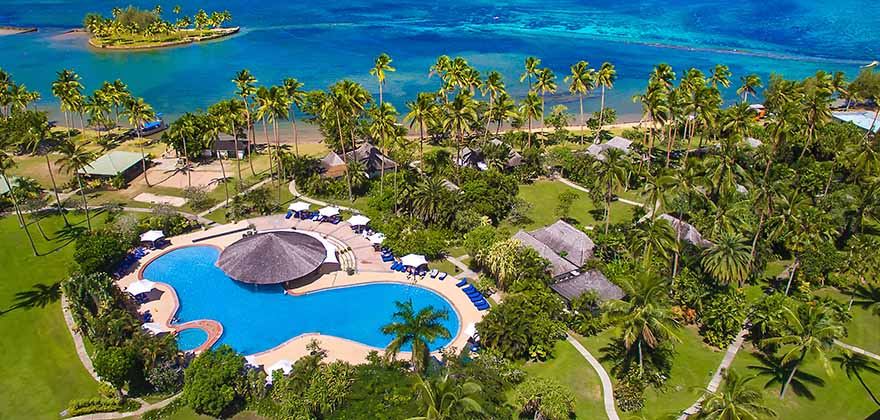 Breakfast is a staple inclusion at the Naviti Resort but if you were to pay-as-you-go for the other meals you would be up for approximately the following costs. Buffet lunch at the Naviti Resort costs A$35 per person. Dinner will set you back from A$52 per person at the buffet and upwards of A$52 at any of the three other restaurants. One beer with lunch will cost you from A$7 and a glass of wine with dinner (a glass, not a bottle) will cost you from A$10
Using those figures alone, that's from A$720 per person before you have paid for your room, flights or transfers. Remember the complete Hoot Holidays package costs from A$1690 per person and that includes all your meals, unlimited drinks, plus a snorkelling trip, Bay Cruise, Coral Viewing and so much more.
It is a similar story in Thailand. Travellers booking an eight-night all-inclusive package deal at the Phuket Marriott Resort and Spa, Merlin Beach will pay from A$2250 per person. If you decided to pay-as-you-go you would be looking at the following costs.
Starting your day with a hotel breakfast will set you back about A$40 per person. Add that on to a two-course lunch at the Phuket Marriott Resort and Spa, Merlin Beach which is about A$50 per person. Dinner at one of the four restaurants will set you back approximately A$70 per person. A beer with lunch will cost A$9 and pre-dinner cocktail, a must in Thailand, costs about A$15.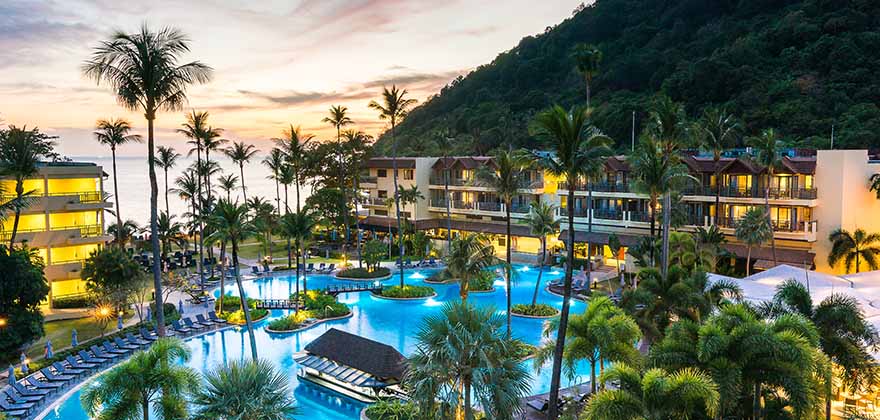 If you tally those costs over eight days, dining – with two drinks a day, that is excluding coffee, tea and soft drinks  – at the Phuket Marriott Resort and Spa Merlin Beach will set you back more than A$1472 per person. Remember the entire package (flights, transfers accommodation, all meals and drinks including cocktails and massages) with Hoot Holidays is from A$2250 per person. That is an incredible value for money. Especially if you like to relax by the pool with a few cocktails.
Hoot Holidays are also experts at negotiating bonus extras into your deal, so you might get free massages or entrance to kids' clubs as part of your tariff.
It's worth doing the maths yourself before booking your next holiday to see what offers you the best value.
Note: Prices are indicative and are subject to change at anytime.